INTRODUCTION
Gras Wood Wide is grand in European pine and Canadian western red cedar
As a stock-keeping importer, Gras Wood Wide has the largest stock in carefully selected quality pine from Sweden, Finland and Germany in all sizes, as well as in top quality western red cedar from British Columbia (Canada). Also in the field of specialist restorations with regard to mill construction or monument care you have come to the right place, we always have various heavy dimensions of pine in air drying in stock.
In addition to pine and western red cedar, we have also been the importer of Lunawood, the thermally modified spruce and pine from Finland for 20 years and also the address for the better quality Siberian larch and douglas. The delivery program is unique in the sense that it can be purchased both in packages (and overboard). On request, the wood is dried, processed, preserved, treated in a fire-retardant way or finished coveringly by external partners. Gras Wood Wide is proud to report that 99% of the traded wood is PEFC™ or FSC® certified and therefore demonstrably sustainably produced.
SPECIALISMS
Gras Wood Wide is often involved in projects in the preservation of monuments. Since we import ourselves, we are immediately able to deliver (also different sizes) quickly, which is important for this type of restoration. The Markiezenhof in Bergen op Zoom, Loevestein Castle in Poederoijen, the Refugiehuis in Den Bosch, Noordeinde Palace and Huis ten Bosch Palace in The Hague are some of the best-known projects. We have mainly supplied pine, Oregon pine and western red cedar.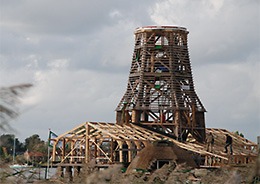 As a descendant of an old mill builders' guild, it is fantastic to be able to report that many mills that have been restored in recent years have been provided with the right materials by us.
On the right an impression of mill 'Het Jonge Schaap' located on the famous Zaanse Schans. Gras Wood Wide supplied various materials during construction.
Click on the image for a video impression ⇒
It is well known that passive building (energy neutral) is the easiest to achieve by building in and with wood. That is why timber frame construction is the answer to passive building in the Netherlands. Maybe not very popular in the Netherlands (yet) but all the more so in our surrounding countries. As a specialist, we have been able to deliver various renowned projects in timber frame construction. In stock are own sawn pine in extra heavy dimensions for the constructions of restoration projects and western red cedar for facades, originating from the primeval land of wood construction: Canada.