WESTERN RED CEDAR
Western red cedar is a type of wood that is preferred when high durability, low shrinkage and swelling and good insulation value are important.
ORIGIN
Western red cedar is a pale pink pine wood that grows mostly on the west coast of Canada and the United States. These slow-growing wild giants provide wood of a unique colour and structure.

Botanical name: Thuja plicata
Growth area: West coast of Canada and North America. Planted in Britain.
Species: pine wood
Virtually all the western red cedar meant for our country comes from Canada
Western red cedar is known for the large colour variations shown in freshly sawn wood. This ranges from pale yellow brown, via rose-brown and salmon-coloured to chocolate brown.
With western red cedar shingles for roof or cladding
You can find additional information on the website below:
– Western Red Cedar Export Association: www.realcedar.com
Western red cedar is difficult to impregnate, has very good insulating properties, dries quickly when it comes to thin wood (there is little warping) and it bonds very well. It is durable, lightweight, has a fine texture, a straight grain and contains no resin. In addition, the wood is sturdy, resilient and very resistant to deterioration and weathering.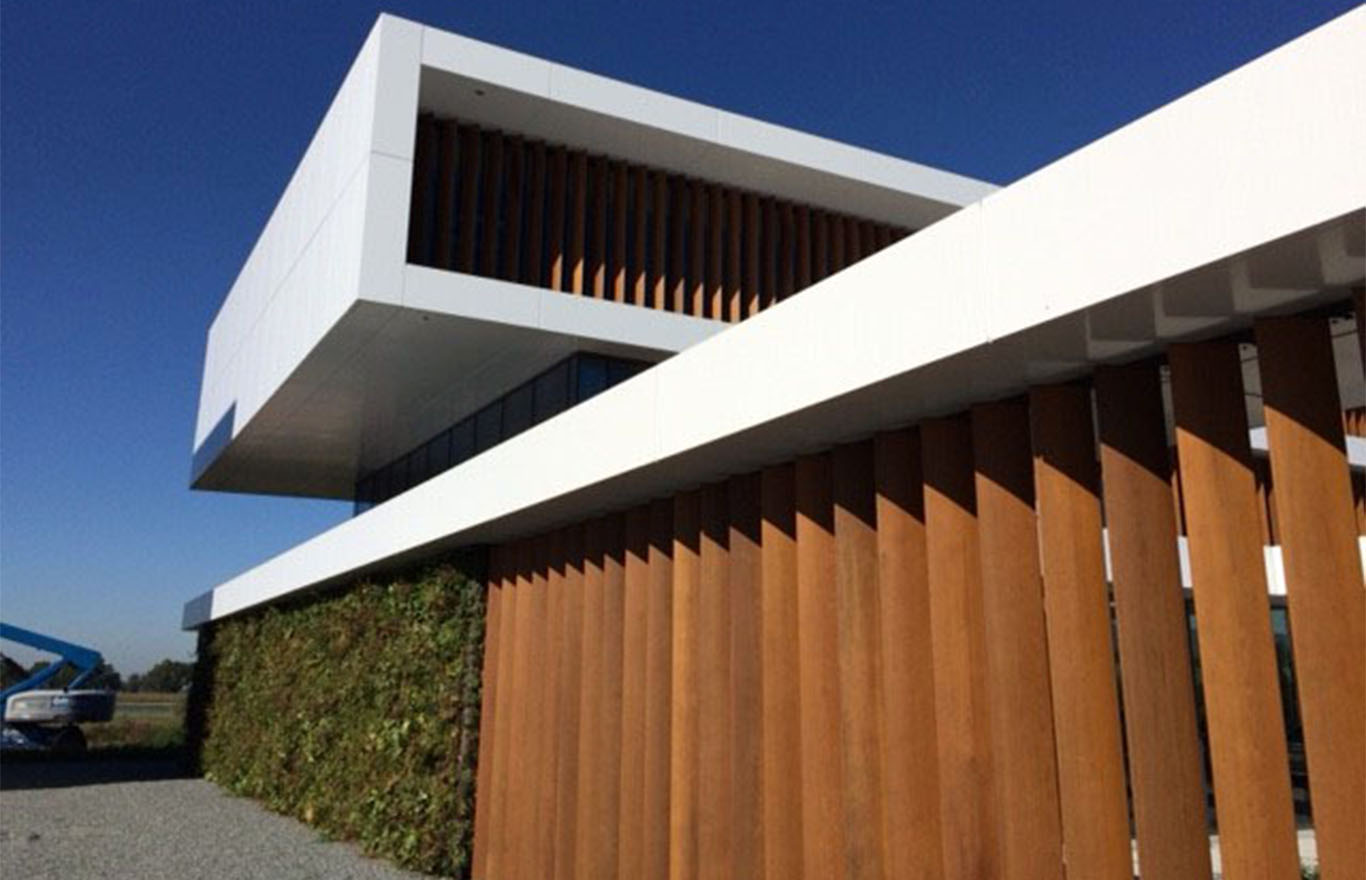 Nijkerk – Company building Borghese/Pleijsier Bouw – 2018
A dynamic and transparent building with a sustainable look. During the design phase, a lot of attention was paid to the health and comfort of the working environment. For the facade we used structural wooden slats of western red cedar. The continuous interplay of lines captures the flying spaces of the various floors. Simply stunning!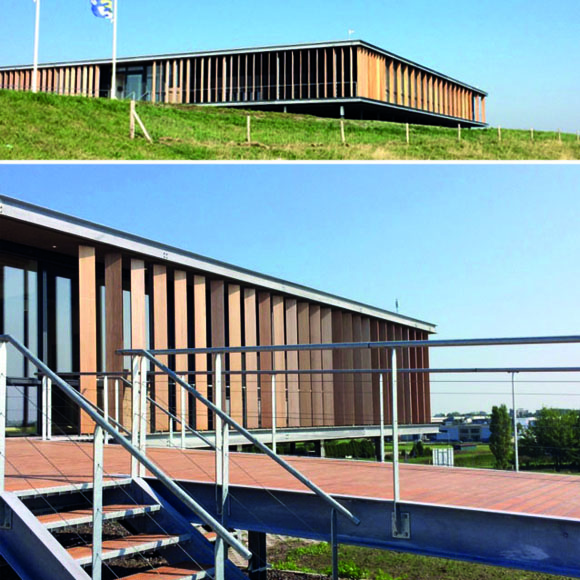 Leeuwarden – Energy knowledge centre – 2019
On the former landfill Schenkenschans and on top of a twelve-meter high hill a lightweight, zero energy and sustainable office building has been realized. They have chosen to use FSC certified wood for the window frames and the floor and wall construction. We have also been able to supply western red cedar for this project, which has been used for the slats.
PARTICULARLY SUITABLE
AS CLADDING
APPLICATIONS
Western red cedar is often used for cladding and exterior panelling. Natural durability allows an untreated application outside.
The wood is used in many ways e.g.: cladding (such as tongue and groove and bevel cutting), fascia boards, (garden) fences and pergolas, saunas, roofing (shingles), light constructions and interior panelling.
SIZES
We supply various western red cedar products. You can think of rough wood (various sizes up to lengths of 6.10 meters) but also processed wood. This category includes tongue and groove parts and bevel-cut parts.
A complete overview can be downloaded here in PDF format.